| | |
| --- | --- |
| - Since 1995, The Original Fan-page for C.S. Friedman - | |

The Latest News
LEGACY OF KINGS
I can't say much more but I do know that the next novel is Legacy of Kings. The third and final novel has been started and yours truly has seen one chapter.
C.S. Friedman is the best-selling author of nine novels, including the popular Coldfire Trilogy and Magister Trilogy. This fan page is dedicated to the celebration and exploration of her work.
Downtime is the name of a short story she wrote that appears in DAW's 30th Anniversary SF Anthology. It's a dark, disturbing (of course) sci fi piece that the author is extremely proud of, and thinks is one of her best short works to date. Vintage C. S. Friedman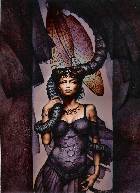 Wings of Wrath Wings of Wrath Her latest published work is Wings of Wrath. If you haven't bought yours yet, you can hardly call yourself a fan, so go ahead and order it from Amazon.

Preview
In a world where spells are fueled by the essence of one's own life, the young peasant woman Kamala has proven strong and determined enough to claim the most powerful sorcery for her own. But her rise to power is not without cost. The shadowy brotherhood of Magisters now hunts her for killing one of their kind, and her only hope of survival may lie in fleeing to the northern Protectorates, where spells are warped by a curse called the Wrath and the shadow of an ancient Enemy is once more falling across the land. Joining company with the Guardian Rhys, she will soon discover the true origin of the Wrath, and learn of an ancient artifact that might awaken the northern bloodlines to their true potential...if it does not drive them mad first.


You can also check out C.S. Friedman's personal site at www.csfriedman.com.



---
Related Links