| | |
| --- | --- |
| - All things relating to the Coldfire Trilogy - | |


Welcome to Jaggonath, city of wonder! Tourists are always welcome. Explore the city as you will and enjoy the hospitality of the East.

If you haven't been here in awhile there is some new fan art hanging at the Art Faire, some new questions in the Inn, and some new MUD info.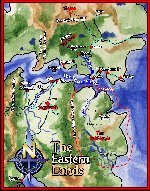 I've received many requests for the full map of Erna. Since Ms. Friedman is so busy and didn't have time to create a map, we held a contest in 1996 to see which fan could come up with the best map. The winner was Paul Boyer of Odyssey-3 Illustration. Please note that there are several typos in some of text labels. Ms. Friedman has also aluded to a few minor geographical inaccuracies, however she has not been forthcoming as to what they are.
Several folks have complained that it's not complete (e.g. doesn't cover the eastern continent). My response is that if you feel you can do a better job than Paul did, then I challenge you to create a new map and send it in. :)

---
Send email to webmaster@merentha.org
Copyright © 1995-2022 Merentha.Org